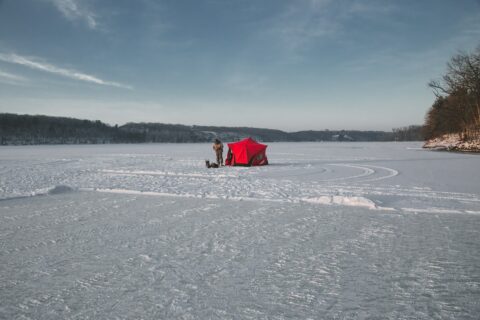 Dear Friends,
A new year, a new beginning, at least in my little world at Lake Beseck. The holidays, come and go with their own special rhythms, and now it is January. Here in New England, we sink into deep darkness and stunning cold as the challenges of life continue. I'm glad the ice fishermen have returned, especially in this 2 degree morning. Their resolute stance of Hope is undeniable…inspirational.
I, too, am making a choice infused with hope. I am gathering together my thoughts, resources and view out the window to complete a memoir started long ago. The process is like packing for a big trip, as I make sure the essentials are at hand and, tucked away, the extra bits needed for unexpected moments. You never know when a button needs attaching, a headache needs soothing, or an island cove needs floating. This particular "trip" comes with built-in challenges, of course, that is the nature of life. So, I am learning to make adjustments – visits with the physical therapist to tend shoulders bent toward the keyboard and special headphones to manage the construction noise next door. Yes, my intention is Hope in the midst of the expected and unexpected nuances of life. 
Life in my seventh decade is a resource, as well. The years have shaped who I am, and at the same time, supported the emergence of my ease with who I was created to be. The losses, in particular, have held great lessons that teach me still. I move through the template of the Land of Loss – Alone, Passage, Surrender, Changed – and find myself thinking a little differently about relationships or experiencing feelings in new ways. This has been, for me, a path of healing and I am ready to tell the tale.
I am grateful to you, friends, who read these Glimmers and share this human journey with me. You are a resource for my project. At the same time, it is my prayer that these personal images and stories become part of your resources for the path of life. You, me, and those ice fishermen – we stand together. Let us sing together, too, with full hearts 'cause "we're going to the end of the line." Join the Traveling Wilburys and smile when you click on this reminder:
"It's all right, even if you're old and gray,
well, it's all right, you still got something to say.
Well, it's all right, remember to live and let live,
well, it's all right, the best you can do is forgive.
With gratitude, Lisa