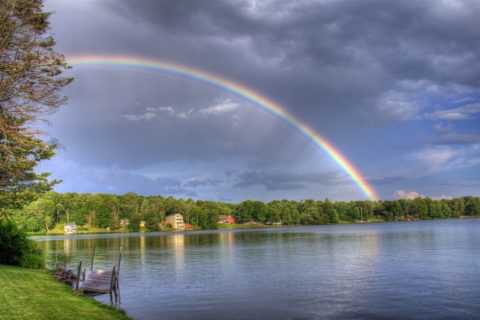 Dear Friends,
For those of you who know me through my work in loss and grief, you know about the Land Of Loss. This image, and the travels through it, are how I understand the powerful experience of loss, change, grief and transformation. When I was writing my book, I hoped that no one died in my little world until I was done because when you are in the Land of Loss, you look at things differently. I have entered the Land of Loss, my 97-year-old step father died on Tuesday. This loss has stirred up long-ago feelings and memories that, once in a while, return for my attention.
Today's Glimmer is a request for your loving thoughts and prayer. Tomorrow, I will be driving to the Bronx to offer a 24 hour retreat for the Sisters of Charity of New York on loss, grief and hope. I wish to continue my ministry as authentically as possible, and so will explore the Land of Loss with these dear women in a new way. I bring you with me, your losses and you desire for healing. Together, we find our way. I close with this lovely blessing from Jan Richardson.
Peace, friends, Lisa
Solace Blessing by Jan Richardson

That's it.                                             

That's all this blessing                             

knows how to do:                              

Shine your shoes.                                   

Fill your refrigerator.                               

Water your plants.                                 

Make some soup.                                  

                                                               

All the things

your cannot think                                   

to do yourself                                      

when the world

has come apart,                                   

when nothing                                         

will be normal                                     

again.                                                                                  

                                                              

Somehow                                             

this blessing knows

precisely what you need.                    

even before                                           

you know.                                              

It sees what will bring                           

the deepest solace                              

for you.                                               

It senses what will offer                      

the kindest grace.

And so it will step

with such quietness

 into the ordinary moments

where the absence

is the deepest.

 It will enter

with such tenderness

 into the hours

where the sorrow

is most keen.

You do not even

 have to ask.

Just leave it open –

your door,

your heart,

your day

in every aching moment

 it holds.

See what solace

spills through the gaps

your sorrow has torn.

See what comfort

comes to visit,

holding out its gifts

in each compassionate hand.