Dear Friends,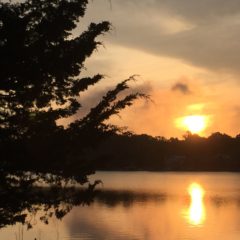 As each winter day holds more light, I've noticed glimmers of hope within the snow and ice…and in my writing room, as well. I lit three candles last night, each a happy memory of a gift received. As I sat in the quiet, I remembered the three women who share their light so generously…Sarah, Shaila and Corinne.
Sarah's light shines through a sphere of crystal glass. The many facets reflect and transfer the light within and without. Always changing and always the same, Sarah's light reminds me that indeed, all will be well.
Shaila's light illuminates an image of peace…an angel holding a child against a dark winter sky. Her light reveals hope in unexpected places, life in new possibilities. Shaila's light makes me smile as the angel's wings seem to embrace me, as well.
Corinne's light, tucked away on the shelf, shines through the silhouette of a dragonfly. This light has been with me the longest of the three and I may have taken it for granted. Today I see the dragonfly's story of transformation shining through, resonating with my own truth, leading me forward. Corinne's light, ever faithful, will not fade. It is part of who I am, part of my light in the world.
Who are the lights in your life? And how do you share the singular warmth that only you have to give? May we all join with the Light of Love for our sake and for the sake of the world. 
with peace, Lisa