Dear Friends,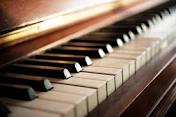 Did I ever tell you that my mother played the piano?
I learned to walk with musical vibrations in my world and in my bones.
Recently, I was actively missing my mom's presence. This happens, occasionally, for me. I search my memory for images or stories so that I might feel a connection, but the 44 years since her death has created a huge gap in my mind. This time, I just said it out loud, "I would like to have a memory of you, Mom." And in the middle of the quiet, something changed when I looked at her piano. I could see her there, moving her body to the music as her hands moved across the keyboard. Her expression reflected her choices, transported through Bach or enlivened by Boogie Woogie. (click links)
I listened to piano music for the rest of the evening, my own body responding to the rhythms and melodies that are a part of me. I, too, find solace or celebration in musical expression and that singular experience makes me happy. I "watched" her joyfully sit at the piano, in that mysterious-memory kind of way. I didn't pay attention to the rest of her body…her lifeless, purple legs…. paralyzed by a car accident so many years earlier. Her life has shaped mine, but I've focused on the losses for long enough.
Dear friends, we are invited to claim the continuing bonds, or "braids of love" as I call them, that extend between ourselves and our loved ones who have died. They are a vital, healthy reality in that relationship. Braids of love assist us in our healing from loss and offer support as our lives unfold in new ways. Once claimed, we can nurture these connections through sweet memories, by filling a vase with flowers, return trips to special locations, or even listening to finger-dropping melodies in B Flat, with grace notes and sustained hold in just the right places. Tears return, but only for a time. In the folds of the moment, our hands touch, our hearts connect and we remember….ahhh love, there you are. There you are, once again. Thank you.
with love,
Lisa